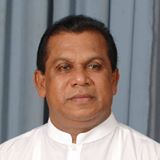 Hon. Ranjith Madduma Bandara
Minister
Ministry of Public Administration, Disaster Management and Livestock Development
| | | |
| --- | --- | --- |
| Tel | : | +94 11 2674115 |
| Fax | : | +94 11 2699720 |
| E-mail | : | This email address is being protected from spambots. You need JavaScript enabled to view it. |
Mr. R.M. Ranjith Maddumabandara, born on 25th of August 1954, entered full time politics in 1980 and served as the Chairman of the Monaragala District Development Council in 1981 and the Minister of Sports, Youth Affairs, Irrigation and Agriculture of Uva Provincial Council after being elected as a representative of the provincial council at the first provincial councils election held in 1988 in Sri Lanka . Mr. Madduma Bandara, who was first elected to the Parliament of Sri Lanka in 1989 as a representative of people in Monaragala district, is since then representing the United National Party as a Member of Parliament for Monaragala district.
He held office as the Minister of Tourism Development in the government run by United National Party in 2002. Further he was the Minister of Internal Transport of the Government of 100 days from 08th January 2015. He now holds office as the Minister of Public Administration and Management of the present government after being elected at the election held in August 2015. The intervention of the Minister Ranjith Madduma Bandara, as the leader of the UNP in Monaragala district from 2010, to introduce and expand the rubber cultivation in the area with a view to enhance the living standards of the people and the establishment of the affiliated university in Buttala is significant among the services provided by him for the benefit of the people.